Thin Stone Veneer Installation
Installation of Cultured Stone Veneer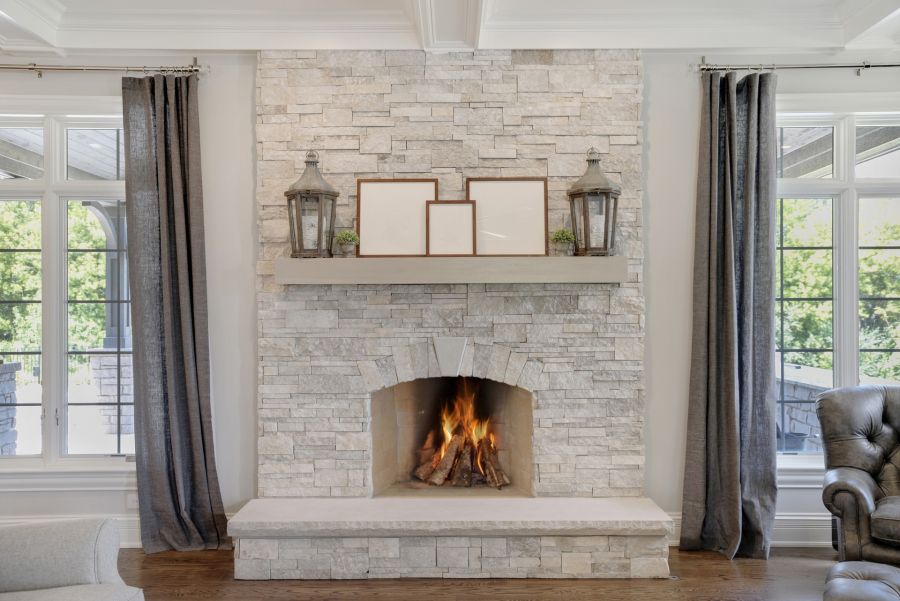 Adding the look of brick or stone to exterior siding or a fireplace creates an interesting architectural focal point and adds pizazz to any home. The most popular choice in thin veneer installation at the moment is cultured stone. Cultured stone is a manufactured veneer product that adds the look of real stone or brick as an interior or exterior accent. Allgood Construction Services, Inc. is a trusted installer of thin stone veneer.
---
Call for a FREE Quote
---
What is the Difference Between Cultured Stone and Stone Veneer?
From afar, very little! Cultured stone is manufactured stone. It is a man-made material that is designed to look like natural stone. Cultured stone is usually made of concrete and then pressed into molds which give them a natural shape. Natural stone veneer is made from stone that is quarried from the earth. Larger pieces are sliced to create thin veneers that are easy to use as a covering for siding and fireplaces. The major difference in appearance between the two is that the cultured stones are often identical in color and/or shape so that at a close inspection it is noticeable that they are impostors.
Natural stone is also less porous than manufactured stone, so it tends to be more durable. The cultured veneer tends to more easily adhere to a variety of surfaces that natural stone does not, such as existing masonry or wood frames. Surprisingly, the price difference is not as big as you might assume. Although natural stone is more expensive to purchase and to install, cultured stone is more difficult to keep clean and is less durable. It really comes down to personal preference. If you're trying to decide between installing natural thin stone veneer or cultured veneer, call the professionals at (404) 383-6416 for more information.
Cultured Stone Veneer Fireplace Installation
Nothing adds a sophisticated yet homey feel to a family room like a stone fireplace. If you are put off by the price tag associated with installing a stone surround on a fireplace, take a look at veneer! Today's stone veneer looks and feels so much like the real thing, it will be tough to tell the difference. Since 2003, Allgood Construction Services, Inc. has installed stone veneers to fireplaces throughout the region.
Our process for installing stone veneer follows best practices for quality construction that will withstand the test of time.
First, the base layer is installed using builder's grade felt
Next, a metal lath is placed on top of the felt
Our masons then get to work applying the scratch coat which is composed of mortar
We then comb the scratch coat to achieve horizontal grooves for the stones to adhere to
Our design experts then assemble your stones into the template that will be installed
Stone pieces are scored and ground to create an exact fit
Corner pieces are then installed with mortar to frame the area
The header stones are installed next to ensure a level installation
The field is finished according to the template that was built
Finally, the joints are filled with grout and allowed to cure
Thin Stone Veneer Siding Installation
If you are looking for a quick and relatively inexpensive to transform your home's exterior and add style and class to your house, consider installing stone veneer. Whether cultured or natural, stone veneer siding installed by the experts at Allgood Construction Services, Inc. is simple to achieve. Not only does installing thin stone veneer give your home a more sophisticated look, but it also adds value to your property and increases your curb appeal. Many people choose to use cultured or natural stone veneer as accents, around the garages, on the bottom 1/3 of the siding and around columns. The options are limitless! Call (404) 383-6416 for more information.
---
Call for Fast FREE Quote
---