Chimney in Suwanee, Georgia
Construction & Repair of Chimneys in Suwanee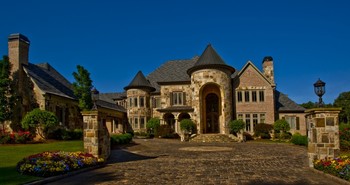 Your Suwanee chimney is the topmost vent or outlet for smoke and toxic gases from within your structure, be it from an industrial boiler, a foundry, a stove, or your home's hearth. Allgood Construction Services, Inc. is pleased to bring best-in-class chimney construction service for any and all types of chimneys to Suwanee, Georgia.
We'll take all the measurements and design just the right chimney for your Suwanee structure to maximize the stack effect, and minimize or eliminate creosote. And that's important because creosote can pose a fire hazard.
However, at Allgood Construction Services, Inc., we'd like you to relax and look through the brochure for styles and designs for chimneys in Suwanee. We'll take care of all the technicalities. If you do, just call us at (770) 336-7876 and we'll be happy to oblige!
Would you like a quaint, chunky chimney for your Suwanee home? Allgood Construction Services, Inc. can make it for you, and make it affordably. Or are you in the market for a no-frills, industrial-strength stack reinforced concrete chimney for your Suwanee smelting company? We can make that too, and make it reliably.
You can have multiple combustion points – say, fireplaces – in your Suwanee structure sharing only one chimney. The trick is to connect these combustion points through an interconnected channel of flues which meet up into a central, common chimney. Being in the chimney-and-flue business since 2003 in Suwanee, Allgood Construction Services, Inc. has developed expertise in this technique.
As you can guess, we know a little something about the art and science of Suwanee chimneys. But instead of going on and on, we invite you to call us at (770) 336-7876. We'll answer all your questions, and will be happy to provide you a no-obligation quote!
---
Call for FREE Chimney Quote
---
WHAT CUSTOMERS ARE SAYING:
5★★★★★ - "The Allgood Construction crew is amazing! They take great care in completing their work and take great pride in making certain that the work is excellent. We would be happy to give them a 5-Star reference."

C. Martin in Suwanee, GA

5★★★★★ - "Allgood Construction is an incredible company and did an outstanding job on our outdoor patio! First, from the beautiful stone fireplace to the stone wall and stone columns, their quality of work and level of detail is beyond anything we could have imagined! We entertain all the time and the first thing our friends say is.. "who did your fireplace, it's beautiful!!" In addition to outstanding quality..they started on time, was extremely professional while at our home (cleaning up at the end of each day) and they even finished ahead of schedule with impeccable quality! We highly recommend Mark and Allgood Construction!"

Julie Peterson in Johns Creek, GA

2019-10-29

5★★★★★ - "Allgood replaced our brick front steps and fixed an issue where water was leaking. Their work was exceptional and professional and would highly recommend them to anyone."

Bob Watson in Alpharetta, GA

2019-09-23

5★★★★★ - "It was a pleasure to rebuild our neighborhood's front entrance with Allgood Construction. Six years before our rebuild began, Allgood helped quantify our original entrance's value for GDOT negotiations. Once our RFP was released, Allgood dug into the details to submit a very professional, detailed bid and was selected to manage the overall construction AND to install our substantial rock work. Allgood stands out for 3 reasons. (1) They will be around for years to advise ahead and warranty after. (2) Mark Allgood is a detail oriented person that is not going to allow mistakes to be ignored. (3) Mark cares about his employees and is able to retain trusted and skilled labor to build beautiful rock structures."

Jennifer in Cumming, GA

2019-08-06

5★★★★★ - "We had a house fire in 2018. The contractors presented by our insurance were less than capable. Mark Allgood came as a recommendation from Atlas Piers. We could never find anyone better than Mark Allgood and his crew! There was the Bright Light in a tough year! We are forever grateful for the skilled and beautiful job Mark did to rebuild our entire brick and stone front entrance. He built the entire structure much more solidly than it originally had been built. Mark was able to satisfy even the pickiest critics! He carries heavy insurance and W/C... a rarity in the masonry industry. We love it and receive compliments on a regular basis."

Clare W in Peachtree Corners, GA

2019-05-20

5★★★★★ - "Wish we could give 10 stars...that's how impressed we are with Mark and Allgood Construction Services Inc! From the very first phone conversation to the completion of the installation of our new brick enclosed mailbox, Mark's professionalism, courtesy, plus the outstanding work done by his crew, was top notch! Mark is our absolute go-to guy for future home projects! Many thanks!!"

Mary L in Loganville, GA

2019-03-11

5★★★★★ - "I could not be happier with the service and final product provided by Mark and his team! I work for Meridian Brick in Atlanta and was needing a mason to build a display for a national trade show we attended. Mark was recommended to me by a teammate of mine and he rocked the job! He was tasked to create an 880 piece Mona Lisa with 2 1/4" x 2 1/4" brick squares from a layout we provided and it turned out great! His team also laid the brick for 12 boxes we had that ranged in size which would ultimately create a large display. The sizes of the boxes were odd and he made it work. There were at least 10 different patterns he applied the brick in and the display turned out beautiful! I couldn't recommend Mark and his team enough. We will definitely be working with him on future installs."

Alexis in Alpharetta, GA

2019-03-04

5★★★★★ - "Couldn't be happier with the work provided by Mark and his team. Had our fireplace redone from floor to ceiling, it looks amazing. It's exactly what I wanted. They were on time, clean, neat, dependable, trustworthy, and all of the things you just don't find these days in regards to a good contractor. Amazing job! Highly recommend!"

Mary in Lake Arrowhead, GA

2019-02-25

5★★★★★ - "We recently hired Mark to thin-brick our fireplace. His team arrived prepared and took extra care to keep a clean and safe working environment. I couldn't be happier with how the project turned out. They did a great job! Prices were fair and reasonable! Thanks, Mark!"

Joe in Atlanta, GA

2019-02-04

5★★★★★ - "Mark and his crew replaced our damaged brick mailbox. It looks great! Thanks for the quality job!"

Diane in Buford, GA

2019-01-14

5★★★★★ - "We had Allgood stone two fireplaces in a new home we are building in Cumming. They showed up when promised ( which in itself we found to be exceptional based on our experience during the whole building process) and responded quickly to address any questions or concerns that we had during the process. They did an EXCELLENT job and we LOVE our fireplaces! We highly recommend Mark and Allgood Construction!!"

The Newburys in Cumming, GA

2018-09-24

5★★★★★ - "Good stone masonry is hard to find these days. But I was very fortunate to find Allgood Construction Services, Inc. online after searching quite some time and had them rebuilt our Stone Fireplace in our family room. They did truly outstanding work, I feel it looks like a piece of "Art". Their reviews were quite impressive earning all five stars from every customer but I wasn't sure how reliable the reviews were. These good reviews about them are really TRUE !!! Thank you, everyone, who worked at our house."

Sang C., Fireplace in Atlanta, GA

2018-06-12

5★★★★★ - "Mark is first rate. He doesn't nickel and dime, but instead, gives full-service execution necessary for an A+ job. He is personally involved from scoping through execution and post-install follow up and his team is top notch.
My wife and I were very happy with our outdoor kitchen buildout. It exceeded expectations.
Mark also brings a real design perspective and in our case, he brought design elements such as dramatic under-lighting, slow-close stainless drawers, and stone chiseled and contoured with the same curve as our grill top that we wouldn't have thought of ourselves.
Additionally, Mark thinks ahead to future-proof his developments. For example, in our case, our soil was a little loose so he thought ahead to bring structural engineers in to ensure a solid foundation.
I would give Allgood the highest possible recommendation in terms quality of delivery, quality of service, quality of outcome, quality of team and ease of doing business with. Top notch!"

Jay Harrison in Atlanta, GA

2018-04-30

5★★★★★ - "We have used Mark and his company for years. Simply the best! He listens and creates your ideas ...... you will enjoy their work"

R Lunsford

2018-04-17

5★★★★★ - "Mark and his crew recently installed a stone fireplace for my wife and I. The end result was absolutely beautiful! They were very professional and equally as talented at their craft. We couldn't be happier! And the care they took to cover and protect our floors and furniture was top notch. When the job was complete, they not only vacuumed the family room floor, they mopped and dusted as well. They treated our home like it was their own. I would highly recommend Allgood Construction for any masonry job!"

Scott in Lawrenceville, GA

5★★★★★ - "Amazing work. They did a job in my home 5 years ago and it still looks like new!!!!!"

Gordon Bussey in Berkeley Lake, GA

5★★★★★ - "Mark and his crew are great! We had our entire 2 story builders grade fireplace torn down and updated with brick. We went with a rustic wooden mantel that turned out much darker than we wanted but it still looks fantastic! All work was completed in just 2 days! They were all super friendly and professional, they definitely care about giving quality work."

Anonymous, Fireplace

2017-05-22

5★★★★★ - "I can't say enough about our experience! We had an indoor fireplace remodel. The work was top notch from the beginning to the end. We could not be more pleased. The fireplace is beautiful!! Exceptional care is taken to keep the dust to a minimum -everything is covered and protected, and the clean up was amazing! I would, without a doubt, recommend Mark & Allgood Construction - you will not be disappointed!!!"

Dale & Sherry Bozeman in Flowery Branch, GA

5★★★★★ - "Never seen such good work repetitively on every job. Been laying for about 15 years and I'm very picky about my work. My hat's off to the gentleman in charge and his skilled workers!"

Randy

5 ★★★★★ - "Mark was AWESOME!!! Cannot describe how wonderful my home looks thanks to his crew !!! They did the stone on my house, my porch and my Fireplace ! And WOW!!! Could not be happier !!! If you're looking for a quality job, look no Further !!!!"

By Charline Benifield in Flowery Branch, GA

5 ★★★★★ - "Mark Allgood referred me to his website : www.allgood-construction-services.com so I could give my information in email for an appointment/ estimate. I am looking forward to hearing from him as he was Exceptionally Highly Recommended by Atlas Piers of Atlanta. Atlas Piers has an impeccable reputation! So for this referral to Allgood masonry, I am looking forward to hear Mark Allgood's artisan resolution. Mark Allgood is considered One of the Absolute Best!!! A true Artisan!"

C W Teague in Peachtree Corners, GA

5 ★★★★★ - "Mark came highly recommended by neighbors on the NextDoor App. I decided to hire him after having to let previous masons go that were not doing the job correctly. I handed Mark a photo of what I wanted from HOUZZ... NEVER in my wildest dreams did I expect him and his crew to make my fireplace look even better than that of the photo... AND they were on time everyday worked on and he even squeezed us into his busy schedule since we had a torn out fireplace by the time I hired him. I HIGHLY recommend that you not only hire Mark and his team, but if you were only considering doing a fireplace or any masonry work and weren't sure you wanted to do it... HOLY COW my fireplace MAKES MY HOME. I cannot stop staring at this masterpiece. I wish I could include a photo... Everyone that comes over has admired his work. THANK YOU SO MUCH! HONEST, DEPENDABLE AND AMAZING QUALITY. You Definitely get what you pay for with Mark Allgood!!!"

G&J Alexander in Johns Creek, GA

5 ★★★★★ - "Mark and his team helped us determine the best way to repair a cracked wall on our property. The repair was done right and looks fantastic. I highly recommend Mark and Allgood team for Masonry work."

Marlene in Alpharetta, GA

5 ★★★★★ - "WOW!! From start to finish! I have been building houses in Atlanta since 1993. This is the best rock job I have seen by far. The stacked stone almost looks like it was chipped by a machine. Great service on time and left the jobsite cleaner than they found it! Use Mark on your next project and well it will be... All Good!! Thanks Mark"

Tim Bell in Cumming, GA

5★★★★★ - "There are people who lay rocks and there are those few craftsmen who turn rock masonry into a work of art to be enjoyed through the generations. 10 years ago, Mark built a beautiful stacked stone fireplace at my lake house. Everything was perfect. 5 years later when I was ready for an outdoor fireplace, I never considered another mason. It would have been a complete waste of time. Mark again answered the call and I could not be more pleased. It is a one-of-a-kind structure. My daughter wants her wedding to be there....one day! What else can I say?"

Mark Wiggins

2015-03-16
---
Call for FREE Chimney Quote
---